What is Invisalign?
Invisalign is a teeth straightening method which uses modern 3-D computer imaging technology to develop a series of invisible and custom made plastic aligners of a patient's teeth and smile to develop a corrected and new smile design. Invisalign is an aesthetical and comfortable alternative to braces. There are no metal brackets, no wires and no bands required during your Invisalign treatment.
You simply put in a new set of aligners in your mouth over your teeth approximately every two weeks until your teeth are straightened and your Invisalign treatment is complete. Using Invisalign helps you achieve a straight smile without compromising your lifestyle activities including smiling. Want to know more? Book an initial appointment here.
Invisible Braces
Invisalign, often referred to as invisible braces is now a popular choice for straighter teeth compared to traditional braces or orthodontic treatment. Invisalign's smooth, clear plastic material makes teeth straightening a more
convenient alternative for patients seeking a solution with minimal impact on their social or professional activities or lifestyle. Invisalign is so discreet that no one will notice.
Invisalign Braces and Benefits
Fast Treatment -In most cases Invisalign offers significantly faster results than traditional braces. While wearing braces can take up to 3 years to straighten teeth, Invisalign only takes up to 12 months to bring you a beautiful attractive smile, a confident smile, a straighter smile. It provides the same amazing results in less than half the time (depending on the complexity of your case).
More Comfortable – Where braces are irritating and uncomfortable, Invisalign work results in practically invisible, smooth and barely noticeable to wear aesthetic treatments in contrast to the traditional "metal mouth" metal braces. The smooth, soft plastic is gentle on sensitive areas of your mouth and they are designed to fit your teeth with little or no discomfort.
HOW INVISALIGN WORKS
Invisalign works by applying a small amount of force (i.e. active appliances) to gradually move your teeth into place rather than using the more intense pressure of braces. As your teeth move, you are given a new set of aligners to continue the process until the treatment is complete and you can enjoy your straight new smile.
Preview Your New Smile Due to the 3D modern technology, Invisalign also allows you to preview your new smile design before you commence treatment and allows patients to be engaged and make suggestions before your treatment begins.
Removable Eating, brushing and flossing is very difficult for people who have braces. You can't eat certain foods because they damage your braces and food is harder to remove when brushing. With Invisalign, you can remove your aligners to eat your favourite foods and clean your teeth as you usually would. There is no restriction on the food you can eat, you don't have to worry about having food particles stuck in your braces and cleaning your teeth doesn't have to be frustrating.
Want to know more? Book an initial appointment here.
HAPPY PATIENT - HAPPY DENTIST!
Dr James Malouf takes pride in helping patients feel happy with the whole process. Features like the exact pricing, the flexibility that Invisalign can work with existing (or new) veneers or other dental treatments. Many patients in their 30's, 40's and even older are taking charge of their dental aesthetics. Issues that they have put up with for years and now realise can be resolved within a year. Issues like minor crowding, moderate crowding or even a crooked or gappy smile. These things may have caused unwanted attention or social stigma in younger years and can be solved with a treatment plan and a payment plan, all free of hidden extras. Orthodontics by Dr James Malouf providing Invisalign in Brisbane since 2011.
Want to know more? Book an initial appointment here.
Invisalign Before and After
Dr. James Malouf has completed a large number of Invisalign cases. He is a leading Cosmetic Dentist and renowned for his meticulous execution with orthodontic treatments in Brisbane.
Dr. James Malouf has years of orthodontic experience and unique qualifications in cosmetic dentistry, coupled together he has become one of Brisbane's leading dentists for straightening teeth using Braces and Invisalign for a range of complicated cases including overbite, crowding and spacing issues. Teeth misalignment can create a range of health concerns including oral health care issues as well self confidence issues.
How Much Does Invisalign Cost?
Invisalign Cost Brisbane is what people are looking for. Unfortunately, there isn't a flat fee for Invisalign aligners.
Your Invisalign cost and treatment will vary depending on your individual assessment. Teeth straightening can be more complex for some patients and therefore require longer treatments, more Invisalign aligners, more visits to the practice to be examined by Dr. James Malouf to achieve the new and aspired smile design. Once the individual assessment is completed.
Dentist Dr. James Malouf will be able to provide a complete treatment plan as well as Invisalign cost for your review. However, to provide you some idea of price, Dr. James Malouf has provided some Invisalign cost approximations based on the complexity of the cases.
Invisalign Moderate Package
$6-7k
Suitable for moderate crowding, spacing and aesthetic treatments in 26 or fewer stages + Fees are all-inclusive with no hidden extras.
Invisalign Comprehensive Package
$7-9k
Best suited to treat complex crowding or spacing. Requires more removable aligners and more appointmentsif you have a crooked or gappy smile.
Light: If you only have very minor crowding then the cost may even be less as you'll need less removable aligners and less appointments. Prices start from $4k (all inclusive).
You will receive
All inclusive fixed price quotation of I

nvisalign

costs

Treatment plan and

treatment

options (if necessary) 

a plan straighten your teeth

no hidden extras – guaranteed

(optional) interest free Payment Plans are available too

replacement cost if you lose aligners (see FAQ below)
Read what Laura Sharp says about her Invisalign procedure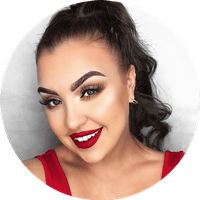 Thank you Dr. James Malouf for giving me the confidence I've always wanted within my smile… I'm so excited to be able to GRIN on my wedding day.
Follow @laurasharpmua on Instagram