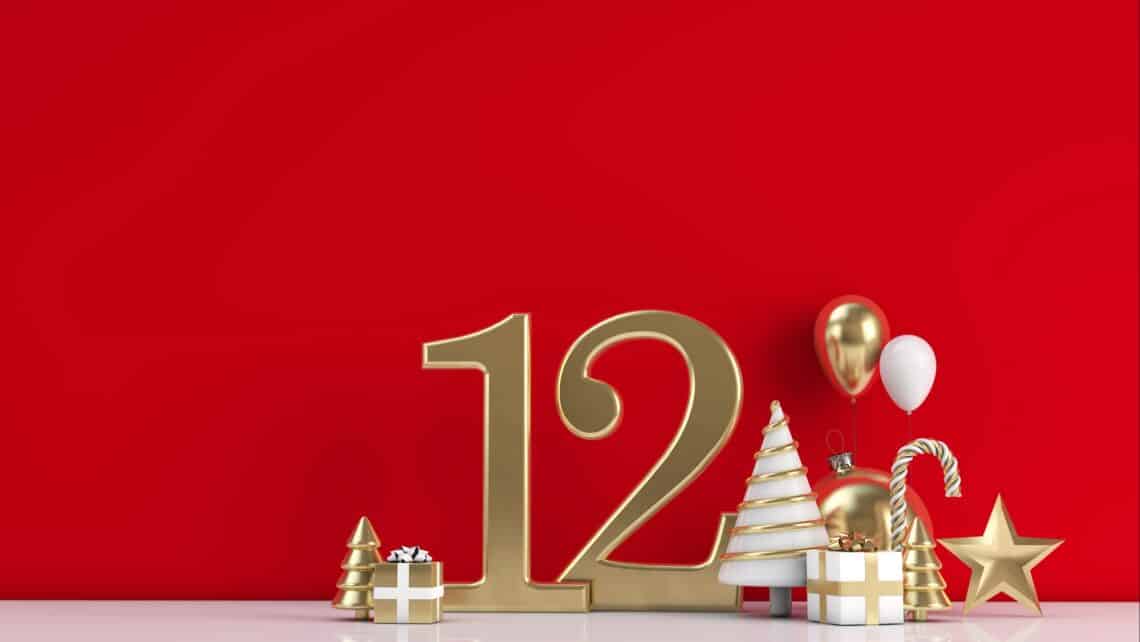 Christmas and any holiday season can be rough on your health, especially your teeth and gums because of the amount of food and drinks we consume.
For the whole year you try to take care of your teeth, by flossing and brushing every day. However, a week of festivity can undo all the care you have taken and wreak a toll on your oral health. So, what can you do to continue taking care of your teeth while still enjoying the holiday season?
We have all heard of the 12 days of Christmas and kids love singing along to the song. Below are 12 tips that will help to carry over your oral health into the New Year.
Tip #1: Stop eating constantly 
With the amount of food such as chocolates and candies available throughout the season, munching constantly can become a habit. Constant nibbling is worse for teeth than sticking to set mealtimes. If you find yourself snacking throughout the day, try to choose tooth-friendly options, such as raw veggies and fruits.
Tip #2: Keep drinking water 
Regularly drink water throughout the day to rinse food particles and bacteria from your mouth and reduce the risk of tooth decay. Choosing water rather than soda or fruit juice over the festive period will help to lower your overall sugar intake.
Tip #3: Carol as you clean 
The biggest issue with brushing at night is we do not brush the required two minutes. With late night parties and going to bed late at night, people do a quick brush in their tired state. The trick is to hum a carol or your favourite holiday song while you clean your teeth, so you get the optimal two minutes as well as keeping yourself awake from the monotony of brushing.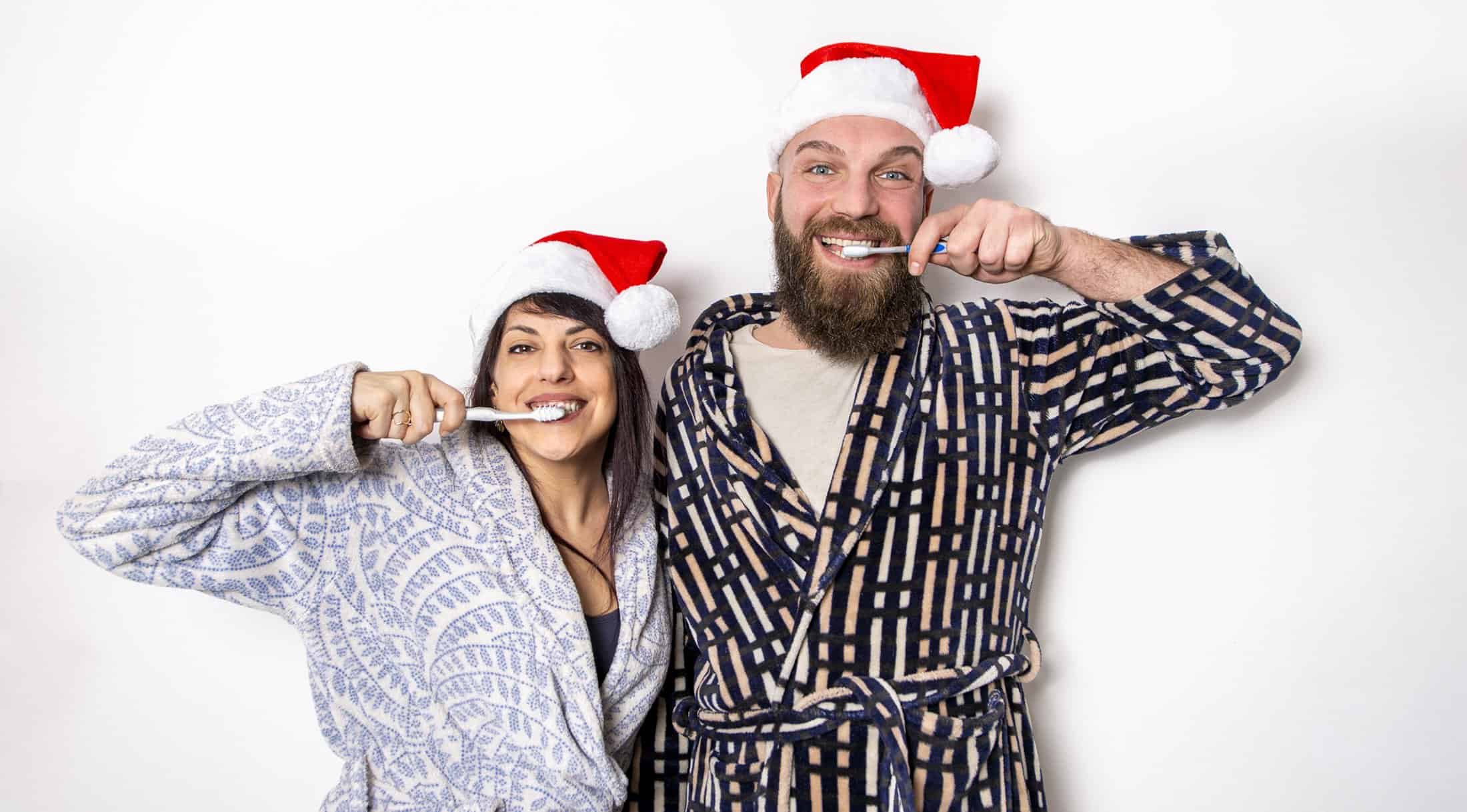 Tip #4: Do not brush after bubbly 
Champagne and sparkling wine is both sugary and acidic, which is very harmful to tooth enamel. It is very difficult to avoid champagne or bubbly, seeing you will be attending so many parties during the season. However, if you are enjoying a glass of wine, ensure you wait at least an hour before brushing your teeth to minimise the damage. The same one-hour rule applies to all acidic foods and drinks.
Tip #5: Do not cut tape with teeth 
Let's face it, we all have cut tape when wrapping gifts because we are too lazy to find a scissor. Using teeth as a tool is a common cause of dental emergency over the festive period. Ripping open presents, tearing off labels, or cutting tape with teeth may save a few seconds, but it may also lead to chipping or breaking a tooth. And should we mention, do not open a bottle with your teeth!
Tip #6: Choose toys instead of treats 
Christmas is a time of giving. This is the time when kids look out for gifts from parents and family. Instead of giving your kids sugary treats or candies on the calendar, substitute it for a countdown filled with family games, jokes, or puzzle activities.
Tip #7: Eat more turkey 
Turkey is one of the healthier festive foods for our teeth because the protein contains phosphorous, which strengthens teeth and bones. Avoid overeating ham wherever possible.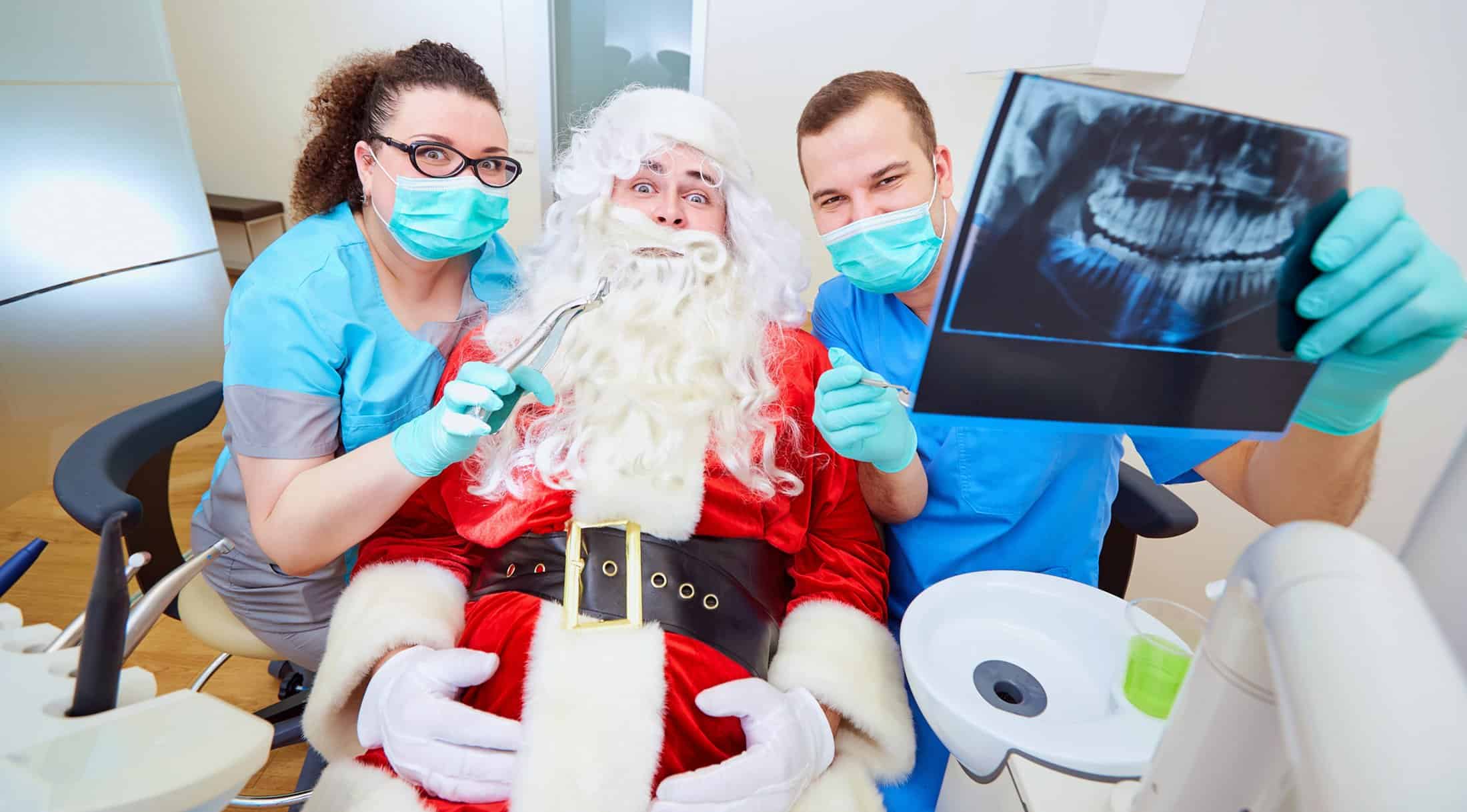 Tip #8: Choose dark chocolate over sticky toffee 
Cutting off sweet treats will make you unpopular. However, you can substitute hard candies or toffees that stay for a long time in your mouth with dark chocolate. Dark chocolate is one of the best sources of antioxidants that can actually improve your health.
Tip# 9: Chew some cheese
Bring on the charcuterie boards and cheese trays. Cheese makes a great snack to enjoy during the holidays, especially if you are also sipping on an alcoholic or highly acidic drink. Cheese has pH balancing properties that help neutralize acids and it's full of calcium.
Tip #10: Do not forget your regular routine
The holidays can throw everyone off balance but neglecting your oral hygiene routine can have serious long-term consequences. It only takes two minutes to brush thoroughly twice a day and another minute or so to floss. You do want to start your New Year without any dental problems.
Tip #11: Pack your toothbrush 
Are you going away this Christmas? Do not forget to pack the essentials – toothbrush, toothpaste, floss, mouthwash, and any current treatments you are having such as whitening trays, etc.
Tip #12: Make a check-up appointment 
Start 2022 on a positive note by making a routine dental and hygienist appointment at Malouf Dental to keep your teeth and gums in mint condition.
Want to book an appointment?
Book an appointment online by clicking here. Call our friendly team on 3390 6100 or email us.